The Center published a number of research findings from its activities. A book on religious extremism and violence (edited by Elias Opongo) emerged as an edited volume from an international conference held in October 2018; research conducted in South Sudan entitled: 'South Sudan's Costly Conflict and the Urgent Role of Religious Leaders' written by Lucy Poni, Elias Opongo and Drew Smith who participated in the research, was published in the Review of Faith and International Affairs.
The CRTP is also part of the Critical Investigations into Humanitarianism in Africa (CIHA) which gives faculty and students opportunities to publish short articles on line as well as attend conferences and meetings. In 2021, three HIPSIR students under CRTP published in the CIHA blog and attended an international conference in Nairobi. The CRTP has also documented its research activities in peacebuilding which have resulted in publications.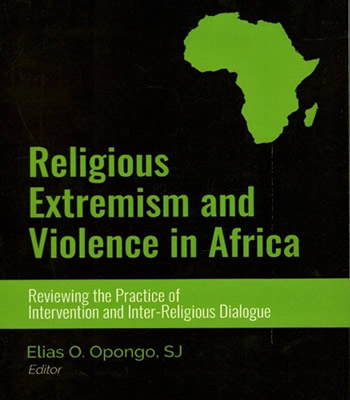 Elias O. Opongo SJ.  RELIGIOUS EXTREMISM AND VIOLENCE IN AFRICA: REVIEWING THE PRACTICE OF INTERVENTION AND INTERRELIGIOUS DIALOGUE (2019)
For the past two decades, Africa has been the theater of violent acts of religious extremism. These have claimed thousands of innocent lives and negatively impacted the socio-economic development in many regions of the continent.
This book is a product of articles presented at a conference on religious extremism and violence at HIPSIR, Hekima University College. The articles herein are a major contribution to the efforts against religious extremism, radicalization, and violence.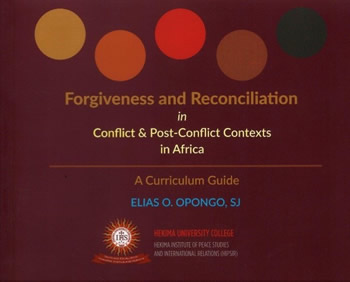 Elias O. Opongo SJ.  FORGIVENESS AND RECONCILIATION IN CONFLICT AND POST-CONFLICT CONTEXTS IN AFRICA (2019):
This curriculum guide aims at providing general instructions on conflict analysis, conflict intervention, and reconciliation as peacebuilding mechanisms in Africa. It exposes students to different perspectives of conflict with a particular focus on forgiveness and reconciliation. The first section provides a contextual overview of conflicts in Africa and the second section proposes a curriculum that can be used to deepen understanding of peace and reconciliation in Africa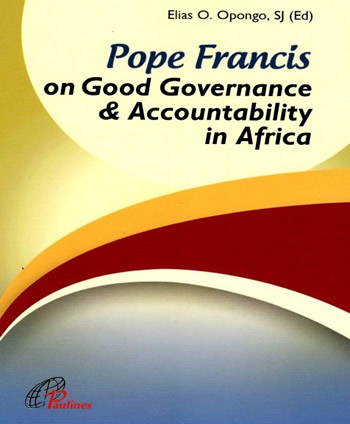 Elias O. Opongo SJ. POPE FRANCIS ON GOOD GOVERNANCE & ACCOUNTABILITY IN AFRICA (2018)
This book brings together articles from different authors who have diverse experiences in peacebuilding. The discussions draw attention to the vital role of good governance in political structures and notes that the Church has a prophetic role to play.
The Church is invited to the stewardship of herself and others in the concrete realization of the Kingdom of God on earth while advocating for abundant life for all humans. Further, the importance of engaging youth in social transformation processes while empowering them with the necessary skills for gainful employment is underlined in this book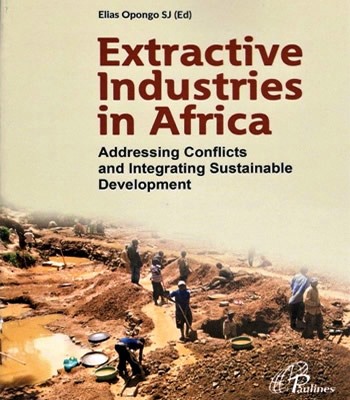 Elias O. Opongo SJ. EXTRACTIVE INDUSTRIES IN AFRICA: ADDRESSING CONFLICTS AND INTEGRATING SUSTAINABLE DEVELOPMENT (2018)
Increasingly more African countries are confronted with new demands in extractive industries that call for equity, environmental safety, corporate social responsibility, social rights of the local populations, and transparency in the handling of contracts, taxation, and development of well-informed policies.
However, the key issue of concern is whether Africa's natural resources can be translated into economic growth and sustainability.  This book explores the extractive industry sector in Africa which has emerged as an important sector that continues to shape the socio-economic and political landscape of the continent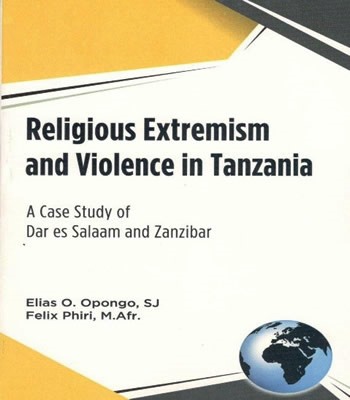 Elias O. Opongo and Felix Phiri,  RELIGIOUS EXTREMISM AND VIOLENCE IN TANZANIA: A CASE STUDY OF DAR ES SALAM AND ZANZIBAR (2017)
Religious extremism and violence has become a major issue of concern all over the world. Many African countries have experienced diverse forms of terrorism which have heightened insecurity and weakened economies.
This study demonstrates that religious extremism, as a socially constructed phenomenon, has been evident in both Dar es Salam and Zanzibar and that religious tensions between Christians and Muslims have existed for many years. Therefore, an evaluation of the boundary between extremist ideologies that justify violence and genuine expressions of political and economic injustices is vital in unpacking the means-end dynamics.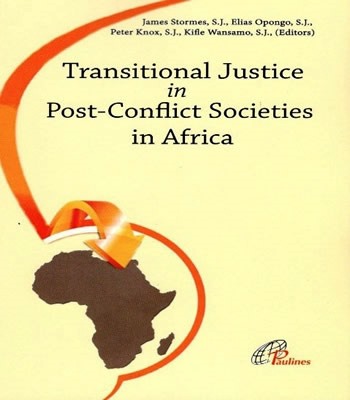 Elias O. Opongo SJ., James Stormes, SJ., Peter Knox, SJ.; Kiffle Wasamo, S.J. (Editors), TRANSITIONAL JUSTICE IN POST-CONFLICT SOCIETIES IN AFRICA (2016)
Transitional justice is at a critical juncture considering the number of African countries in post-conflict situations. Transitional justice processes are complex and require a vast array of reforms aimed at ensuring sustainable peace in societies.
This volume interrogates the challenging terrain of post-conflict justice and offers new thinking on the strategies for peacebuilding in Africa. This is an indispensable collection that will appeal to policymakers, academics analysts, practitioners, and students of justice and politics interested in peaceful transitions across Africa and around the world.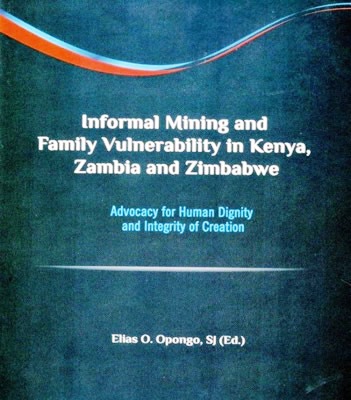 Elias O. Opongo SJ.  INFORMAL MINING AND FAMILY VULNERABILITY IN KENYA, ZAMBIA, AND ZIMBABWE: ADVOCACY FOR HUMAN DIGNITY AND INTEGRITY OF CREATION (2016)
The mining sector employs more than 100 million people worldwide. This book, therefore, puts forward an advocacy appeal for families most affected by the poor conditions within the informal mining sector.
The book proposes several policy recommendations that governments can apply in engaging with key stakeholders in policy review and formulation to protect the lives of these vulnerable families. This book is a result of research conducted on the extent of family vulnerability in the informal mining sector in Kenya, Zambia, and Zimbabwe by the Africa Forum for Catholic Social Teaching (AFCAST).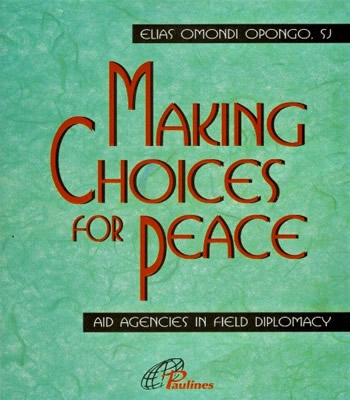 Elias O. Opongo SJ. MAKING CHOICES FOR PEACE (2006)
Humanitarian agencies have for long been the only provider of life-sustaining aid to people in conflict situations that governments themselves prefer to avoid. The unique access that these organizations have to people in desperate need opens the doors for opportunities to conduct operations at multiple levels.
This book calls for aid agencies to go beyond aid delivery, while expounding on relevant areas of humanitarian work, such as the elements of field diplomacy, psychosocial concerns of aid workers, and a spirituality of humanitarian work.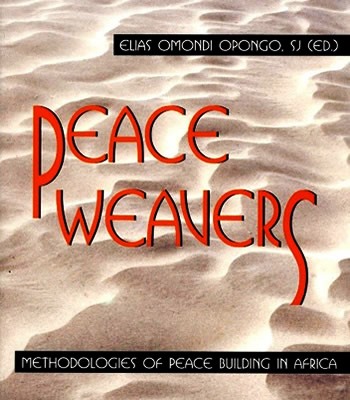 Elias O. Opongo SJ (ed). PEACE WEAVERS (2008)
Peace weavers are men and women committed to transforming African conflicts and introducing a new horizon of hope. This book explores the various methodologies of peace building in modern African states. The peace strategies portrayed herein have been tested and proven to be effective and/or showed great potential at being effective in resolving or transforming both local and international conflicts within the continent.
Although this book does not purport to exhaust the available methodologies nor present them as exclusively African, its primary objective is to explore the peacebuilding methodologies that take into account the complexities of African conflicts at both local and international levels.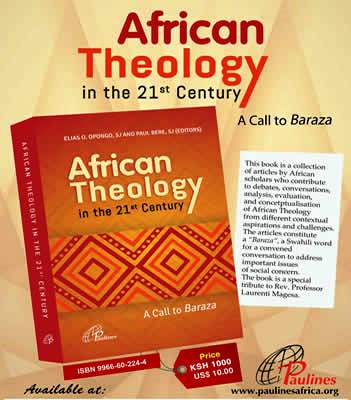 This book attempts to articulate new trends in African Theology through a 'baraza' approach, a Swahili word for a convened conversation aimed at deliberating issues facing a society.The collection of articles by a wide array of African scholars contributes to the debates, conversations, analyses, evaluation, and conceptualization of the African Theology from different contextual aspirations and challenges. The book is a tribute to Rev. Professor Laurenti Magesa who has immensely contributed to the development of African Theology.
Other books and book chapters
Elias O. Opongo et al (eds), 2019. The State and Nation-Building Processes in Kenya Since Independence: Remembering the Marginalized and Forgotten Issues and Actors.Bameda: Langaa RPCIG
Kifle Wansamo SJ., 2016. An Assessment of Illicit Small Arms and Light Weapons Proliferation And Fragility Situations: Somalia. In E. Omondi, SALW and its relation to cattle rustling, poaching, and state fragility in Eastern and Central Africa [HIPSIR research Paper for Regional Center on Small Arms (ECSA)]. Nairobi: RECSA.
Elias O. Opongo SJ and Dadirai Chikwekwete (eds), 2015.Building Social Conscience through the Continuing Formation of the Laity: Focus on Catholic Professionals. Harare: Africa Forum for Catholic Social Teaching (AFCAST).
Elias O. Opongo SJ and David Kaulemu (eds), (2014). Catholic Leadership in Peacebuilding in Africa. Nairobi: Paulines Publications Africa.
Kifle Wansamo SJ. (2013). Challenges to the Church in Africa and the world in its reconciling mission. In A.E Orobatr (Ed.), Practicing reconciliation, doing justice, and building peace. Nairobi: Paulines.
Elias O. Opongo SJ (2013). "The African Union and a liberal peace agenda to conflict." In Murithi, T. (ed), Handbook of Africa's international relations. New York: Routledge, pp. 62-73.
Elias O. Opongo SJ (2013). "Historical Dynamics of the Northern Uganda Conflict: A Longitudinal Struggle for Nation Building." In Kenneth Omeje and Tricia R. Hepner (ed), Conflict and Peacebuilding in Africa's Great Lakes Region. Bloomington: Indiana University Press, pp.85-106.
Elias O. Opongo SJ (2013). "Between Violence, Reconciliation Rituals and Justice in Northern Uganda" in A.E. Orobator, Practicing Reconciliation, Doing Justice, and Building Peace: Conversations on Catholic Theological Ethics in Africa. Nairobi: Paulines Publications.
Elias O. Opongo SJ (2013). "Inventing Creative Approaches to Complex Systems of Injustice: A New Call for a Vigilant and Engaged Church," in Agbonkhianmeghe E. Orobator SJ, ed., Reconciliation, Justice, and Peace: The Second African Synod. New York: Orbis Books.
Wansamo, Kifle SJ. (2009). "Towards building stability in a multiethnic/national Society: Conflicts in Sidaamaland, Ethiopia." Saarbrucken, Germany; VDM Publishing.